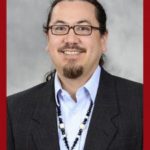 Sealaska Corporation
An expert in higher education, Joseph Nelson has been a member of the Sealaska board of directors since 2003. He serves as board chair, in addition to chairing the Finance Committee and serving on the Shareholder Relations Committee. He is also a director of Sealaska Environmental Services, LLC.
Nelson is the Vice Chancellor of Enrollment Management at the University of Alaska Southeast (UAS), where he is responsible for all student services, including admissions, financial aid, advising, registration, housing and recreation.
Born in Mount Edgecumbe, Alaska, Nelson was raised as a commercial fisherman in Yakutat. He is a member of the Teikweidí(Brown Bear) Clan, Eagle moiety of the Yakutat Tlingit tribe. After graduating Yakutat High School, Nelson attended college in Southern California. He received a Bachelor of Arts in political science from UCLA in 1996 and earned his Master of Arts in American Indian studies in 1998. In 2001, he received a Juris Doctorate from Loyola Law School.