---
---
The annual convention serves as the principal forum and voice for the Alaska Native community in addressing critical issues of public policy and government. The convention convenes thousands of official delegates and participants from membership organizations across the state.
At the Convention, delegates discuss strategic opportunities and challenges, listen to memorable keynote speeches, hear reports from political leaders and presentations from expert panels, and share stories resilience, experiences, strengths, knowledge and hope for the future.
The resolutions passed by the voting delegates set the priorities for the year and guide AFN's efforts.  The Convention is the largest representative annual gathering in the United States of Native peoples.
The 2021 AFN Convention will be all virtual, on December 13 & 14.  Citing health and safety concerns which include the increase in COVID-19 cases and hospitalizations statewide and the consequent pressure on Alaska's healthcare system, AFN will host the entire convention virtually.
As was done for the 2020 AFN Convention, a robust virtual meeting platform will be combined with live statewide TV and radio broadcast coverage, and live streaming on multiple video channels. A full agenda will be released to the public in early December.
AFN will also develop an online Native arts marketplace featuring many of the same Native artists that have had booths in the exhibit hall during in-person AFN Conventions. 
This year's Convention theme is "ANCSA at 50: Empowering Our Future."  The passage of the Alaska Native Claims Settlement Act fifty years ago was a groundbreaking, remarkable achievement for Alaska. A model around the world of Indigenous self-determination, ANCSA has led to tremendous economic benefits and opportunities for Native people and for all Alaskans.
AFN will proudly celebrate that accomplishment while acknowledging there is plenty more work to be done. This year's theme emphasizes the importance of addressing the collective work ahead of the Native community to empower our people and face the challenges of the future together. Since its passage, ANCSA has been amended in significant ways and with technical fixes. AFN recognizes that there is unfinished business and unmet promises, particularly in the area of subsistence rights and food security, public safety and law enforcement, and economic development.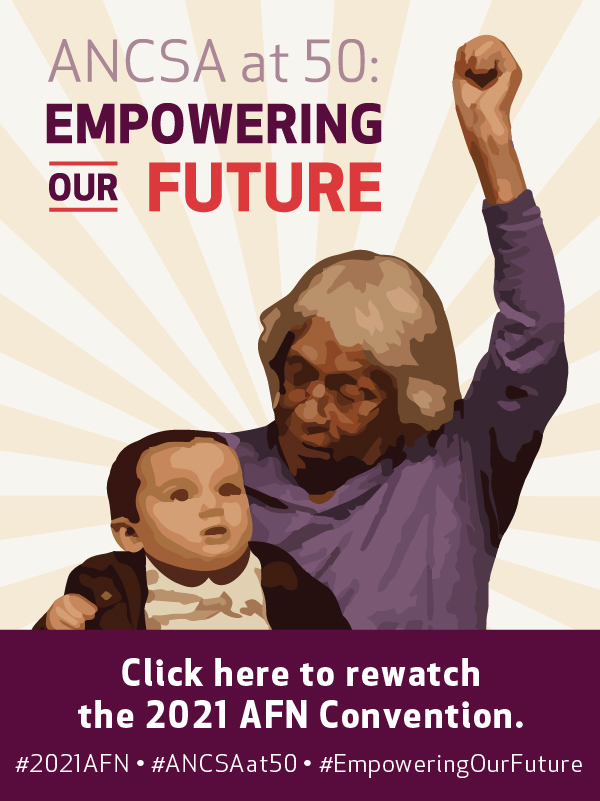 ---
---
Agenda
Click HERE for the 2021 AFN Convention Agenda.
---
2020 Convention
"Good Government: Alaskans Decide"
October 14 & 15, 2020
Webcast Archive
Click Here
---
Have a specific question about Convention?
Please use the form below to tell us about it and be sure to choose your topic so we can get your question to just the right member of the AFN team!