Our traditional dances remain the lifeblood of our culture and our communities: they sustain us and connect us with our rich cultural history. Passed from generation to generation, our dances ensure that the many distinct Native cultures across Alaska remain connected to their origins. For over 20 years, Alaska Natives have come together in dance to celebrate Quyana Alaska during AFN's Annual Convention.
First introduced at the 1982 Convention, Quyana Alaska was designed to restore our traditional dances and ensure that they were passed on to the future generations. To date, over 200 different dance groups have performed at Native gatherings across the state. The cultural revival has certainly exploded across rural Alaska, and Quyana Alaska is now a treasured highlight of each and every Convention.
MORE INFORMATION: Click here to download the 2018 Quyana Flyer
---
Quyana 1
Thursday, October 18, 2018
7:00 pm - 11:00 pm
Dena'ina Center, Anchorage
Emcees: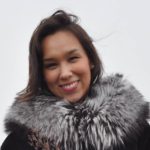 Alice Qannik Glenn is an Alaska Native Iñupiaq born and raised in Utqiaġvik, Alaska. She currently works at Rasmuson Foundation as a Momentum Program Fellow in Anchorage. The Momentum Fellowship program is a partnership between Philanthropy Northwest and Rasmuson Foundation designed to prepare professionals from underrepresented communities for careers in philanthropy with focuses on diversity, equity, and inclusion. In her free time, Alice also hosts and produces her own podcast show called Coffee & Quaq. Coffee & Quaq is a weekly podcast to celebrate and explore contemporary Native life urban Alaska.


Eric Reimers currently works for Senator Lisa Murkowski (R-AK) as a Legislative Correspondent, where he focuses on Native American Policy, Rural Affairs, and Housing. Previous to his role as a Legislative Correspondent, Eric worked for Senator Murkowski as a Staff Assistant and was also a Legislative Intern for the House Committee on Natural Resources (Minority Staff). Eric is originally from Iliamna, Alaska, where he is an enrolled member in the Native Village of Iliamna. He was brought up commercial, subsistence and sports fishing with his parents and grandparents in the Bristol Bay region of Alaska. Eric is Yup'ik, Dena'ina Athabascan, and German.
Dancers:

---
Quyana 2
Friday, October 19, 2018
7:00 pm - 11:00 pm
Dena'ina Center, Anchorage
Emcees: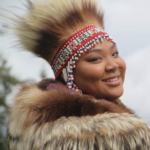 Piiyuk Olivia Shields is originally from Toksook Bay, Alaska. She is the daughter of Panigkaq Agatha John-Shields and Samuel Shields Jr. Her maternal grandparents are the late Chief Dr. Kangrilnguq Paul John and Anguyaluk Martina John of Toksook Bay, Alaska. Her paternal grandparents are the late Samuel Shields and the late Earline Richardson of Greenville, Mississippi. Piiyuuk is the former Miss Cama-i 2016 and former Miss World Eskimo Indian Olympics 2017.  Piiyuuk wants to serve our Native peoples as an inspiration of an educated Native woman, strong in her language, culture, and identity.
Iñuuraq Kaylene Evans was born and raised in Nome. Her parents are Kathleen Aaġayuk Jaycox of Kiana and Bobby Keok Evans of Nome, with roots in Shishmaref through her maternal grandmother, Laura Muktoya Sockpick Evans. She is a Masters student in the Indigenous Politics program at the University of Hawaiʻi at Mānoa. "I am humbled to hold the title of Miss WEIO 2018. My platform is to promote unity within our communities in Alaska. The WEIO games showed me that we are always strongest when we come together and celebrate one another. I believe creating space and dialogue on our shared identities, histories (including trauma), values and traditions will allow us to thrive as Native Peoples once again."
Dancers: